Time for an update! We are currently working hard on the new video for Dungeon Kingdom. We have plenty of assets created by 3D artists, but it takes some time to make them "ready" for the game's fully dynamic environments. We have made some great progress and we are confident that you will enjoy the results. We are very excited about what you will discover in the trailer!
If you don't want to wait, we have released a small picture which shows off 2 of the new environments you will experience in the game: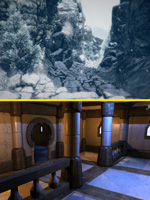 Lastly, we want to mention that thanks to you, we have so far reached 27% of our initial goal. We have also reached 95% of the way to the top 100 on Steam Grenlight. We very much appreciate all of your help, support and contributions! Don't forget, you can still help us to fund the game with our Indiegogo campaign, so we can improve it and release it sooner!
https://www.indiegogo.com/projects/dungeon-kingdom-sign-of-the-moon